Mary Skelter Finale (神獄塔 メアリスケルターFinale, Kami Gokutō Mearisukerutā Finale) is a dungeon-crawling role-playing video game developed by Compile Heart for the Nintendo Switch and Playstation 4. It is a continuation of the True Ending of Mary Skelter: Nightmares after the completion of Mary Skelter 2.
Mary Skelter: Finale includes a "Before Story" that features the stories of both Mary Skelter: Nightmares and Mary Skelter 2. Even if you have not played previous entries in the Mary Skelter series, you will be able to enjoy the series in full. You will also be able to play Love Prison Tower Mary Skelter, which was included as a pre-order bonus with Mary Skelter 2. In total, you can enjoy three different adventures in addition to the main game.[1]
While it was originally planned to be released on August 27, 2020, it was delayed until October 8, 2020 and then again to November 5, 2020, likely due to reasons related to the COVID-19 outbreak.
The English website was launched on March 4th, with a predicted release of Fall 2021.
Plot
[
]
The Blood Maidens and Jack are separated after the ending by the Executioner Girls, splitting into a few groups: the Jack group (Jack, Otsuu, Little Mermaid, Miko, Mamoru, Hikari, and Michiru), the Mary group (Mary, Charlotte, Alice, Chiaki, and Gatou), the Clara group (Clara, Gretel, Hameln, Sukui, and Kaede), the Toh group (Toh, Snow White, Kaguya, Jabberwock, Towa, and Haru), the Red Riding Hood group (Red Riding Hood, Thumbelina, Cinderella, and Kunai), and the Pyre group (Pyre, Rapunzel, Sleeping Beauty, Takumi, and Itsuki).
Gameplay
[
]
As far as it as been confirmed, Mary Skelter: Finale holds the same basic gameplay that defined Mary Skelter: Nightmares and Mary Skelter 2. Dungeon-crawling and the timing of dungeon features works on a turn-based system similar to the likes of Etrian Odyssey. Blood Maidens have special field abilities used to solve puzzles and navigate dungeons. By attacking the weaknesses of enemies and/or overkilling them, the player could accumulate Blood, allowing Blood Maidens to access the powerful Massacre or Blood Skelter states depending on their Corruption. Nightmares make a return as an unkillable boss requiring quick thinking to escape rather than by brute-forcing the solution.
New Features
[
]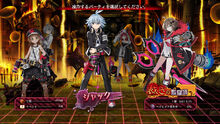 Zapping System: The zapping system allows the player to switch between the groups in real-time, allowing them to play whichever group whenever they want. Items can be given to different groups through special boxes. Some groups will reach a dead-end in which a different group will have to interact with the environment to pave the way forward.

Before Story System: Allows the player to view story scenes and events along with the "Bonus" option, featuring the "Gallery," "Music," and "Character" menus, from the previous games. It seems as though the voices will not be included in these scenes.
Babymare System: An eerie existence that sticks to Blood Maidens. It causes certain skills and commands to become unavailable and inflicts abnormal status effects. However, if it can be repelled, it will give a status buff and a lot of blood for Massacre Mode.
Support Campaign
[
]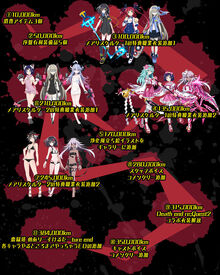 Compile Heart put out a support/preorder campaign, promising rewards to players depending on how far the "Jailbreak Distance" goes. It started on March 28, 2020, and ended July 31, 2020. The ultimate goal is 384,000 km, although how each kilometer is measured has not been disclosed. One can contribute by either tweeting "#メアリスケルター応援" on Twitter (only counted once per day, no bots) or preordering the game, but as preorders are exclusively Japanese as of now, it is mostly relegated to Japanese consumers. It was originally going to end on June 30, 2020, but it was extended due to the delay of the game.
It reached 42,285 km from March 31st to April 6th, 69,045 km from April 7th to the 14th, 91,200 km from April 15th to the 22nd, 151,855km from April 23rd to the 30th, 173,150 km from May 1st to the 8th, 190,190 km from May 9th to the 16th, 205,525 km from May 17th to 24th, 218,905 km from May 25th to June 1st, 249,360 km from June 2nd to the 8th, 267,290 km from June 3rd to the 10th, 291,210 km from June 11th to the 18th, 308,345 km from June 19th to the 26th, 329,540 km from June 27th to July 4th, 340,220 km from July 5th to the 12th, 357,570 km from July 13th to the 20th, and 380,305 km from July 21st to the 28th, and 395,235 km from July 28th to the 31st.
The goal of 384,000 km was met and exceeded by the end of the support campaign, so all benefits were achieved.
The rewards are as follows:
10,000 km – Consumable Items (x3)
50,000 km – Early-Game Advantage Equipment (x5)
100,000 km – Mary Skelter: Nightmares Special Job Costume Set 1 Added
135,000 km – Mary Skelter: Nightmares Special Job Costume Set 2 Added
170,000 km – Purged Portrait Illustrations Added to the Gallery
210,000 km – Mary Skelter 2 Special Job Costume Set 1 Added
245,000 km – Mary Skelter 2 Special Job Costume Set 2 Added
280,000 km – Staff Voice Commentary Added
315,000 km – Death end re;Quest 2 Collaboration Costumes Unlocked
350,000 km – Cast Voice Commentary Added
384,000 km – Love Prison Tower Mary Skelter: True End: Adds Ending(s) That Let You Go All the Way with Each Character[1]
Opening Movie
[
]
Gallery
[
]
External Links
[
]
References
[
]